---
… elicited the loudest applause
"…Candidates for the office of mayor to deliver short remarks throughout the night, some of which elicited the loudest applause… Himy Syed, who dropped out of a ward race to run for mayor said: "We've sent enough cowboys to City Hall. Now it's time for an Indian."

Natalie Alcoba | City Hall reporter
National Post (06/02/2010)
---
… an unapologetic endorsement of HiMY SYeD being taken very, very seriously as a candidate for mayor of Toronto in 2010
"…as show business people say, he killed, delivering a rhythmic speech that ended with a very funny call to arms. This Election is not about Left or Right. It is about who is being Left behind, and who's Right behind them. We've sent enough Cowboys to City Hall. Now, It's Time for an Indian.
"…Sifting through Mr. SYeD's work and online presence … we begin to discover a highly thoughtful, active and involved citizen. … up to his eyes in the life and well-being of this city.
"…He attends council meetings, appearing to know more about what's going on at City Hall than those like … Mr. Ford who've been elected to represent it.
"…candidate SYeD has earned the right to have those specifics aired to a citywide audience. … Failure to make space for him will reveal a cravenness and fear of having a truly meaningful discussion about the future of Toronto on the part of our mainstream media and the leading candidates themselves. We, the people of Toronto, should not be denied that discourse."

Darren Foster | Municipal Blogger
All Fired Up In The Big Smoke (06/11/2010)
---
… first potential "someone else" has been candidate HiMY SYeD
"Toronto's 2010 civic elections look to be very disappointing for progressives of all stripes … local media having decided on an unapologetically right-wing slate of mayoral candidates
"… the so-called "top 6″ have failed to speak to my issues so much that I've stopped listening. I don't bother to go to debates, and likely won't until I can hear from someone else.
"…The first potential "someone else" has been candidate HiMY SYeD.
"SYeD and I have followed each other on twitter for several months, long before the election rhetoric started, and have attended several of the same political functions. One was the Transit City Coalition launch at city hall … Another was a surprise community meeting with ward 32 councillor Sandra Bussin.
"I didn't actually meet Mr. SYeD in person until we spoke at the Bike Joint Bike Breakfast, one of the first events of 2010 Bike Month in Toronto. We spoke about the meeting with Bussin, the election in general, cycling infrastructure and Keynesian economics. He comes across to me as very knowledgeable on issues that matter to me (and should matter to everyone in Toronto), and his ability to communicate, not only speaking but listening and discussing. And unlike many of the candidates I've heard from, SYeD seems to speak intelligently about any issue, not just one or two that he cares about.
"…I'm a very long way off from being a decided voter in this election. But HiMY SYeD is one of the first to have my attention."

Greg Burrell | Accountant
The General Ledger (06/17/2010)
---
… Syed envisions a transit system that unites its riders
"…mayoral candidate and self-described Torontopreneur is finishing a roughly 24-metre-wide, multilingual subway map. At his concrete canvas, just southwest of Christie station, … His map weaves other languages — Korean, Greek, Hebrew, Ethiopian, Farsi and Russian — among familiar station names in English,
"Although his map represents the many different cultures and tongues, Syed envisions a transit system that unites its riders. He thinks the image of a transit of Babel is appropriate, since the TTC is itself in transition and so much of what happens will hinge on good communication.
"With all the misunderstanding within discussions about transit recently, we're all trying to decipher and understand what transit means today and what the TTC will be tomorrow," said Syed. "In a way, we're all trying to speak the same language."


Fabiola Carletti | Staff Reporter
Toronto Star (06/21/2010)
---
… I've seen a fourth type who runs for office
"…there are three major reasons to seek elected office — altruism, ego or delusion — I ask … why they are running for mayor.
" I ask … as a single-issue voter; subway riders pushing their way onto trains before others disembark. The same question, posed to David Miller, Adam Vaughan and Adam Giambrone, qualified their capacity for humour.
"Syed has more than just a comment. … Syed takes us through a radical idea for an alternate subway route, which, during peak hours, would have westbound trains turn south. … Syed is in his element. Describing the research and minutiae involved,
"I'd like to say … I've seen a fourth type who runs for office, beyond the altruist, egoist or deluded."

Corey Mintz | Food Columnist
Toronto Star (07/12/2010)
---
… More Mayoral candidates than the Media 5
"Mayoral candidates, we only hear of five getting respectable media coverage … in a time where Toronto is facing big challenges – all good ideas deserve to be heard.
"… spare a few minutes: Search online and look up … HiMY SYeD"

Bryan Heal | Civic Entrepreneur, Blogger
The Life of Bryan (07/16/2010)
---
… In Search of a Mayor
"…presumptuousness that went into the lazy newsroom selection of so-called frontrunners has come back to haunt those who made these decisions. Now they complain about the dearth of inspiring candidates among the 'frontrunners'.
"By arbitrarily leaving them out, … denied … the rest of us the opportunity to hear other ideas for our city and possible identify some potential leaders.
"This has left an overwhelming number of voters still looking for a deserving mayoralty candidate for whom to vote come October.
"In Canada, more specifically in Toronto, a city that prides itself on its diversity, it is indefensible that an unspoken pattern of political exclusion is influencing this mayoral race.
"…candidates registered … for mayor who have not been in the mainstream spotlight: Himy Syed."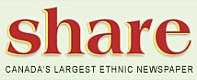 Editorial | Share Newspaper
Canada's Largest Ethnic Newspaper (08/11/2010)
---
… citizens' rights at the centre
"HiMY SYeD wants a complete reboot of the city with citizens' rights at the centre. No wonder he's been accused on Twitter of impersonating Toronto's original rebel mayor, William Lyon Mackenzie."

Matthew Kupfer | Editorial Contributor
Eye Weekly (08/24/2010)
---
… better than Ford's vision of cyclists
"…First serious platform presentation on cycling by Mayoral Candidate HiMY SYeD. It's a shame that all the mainstream candidates have only excreted patronizing and dangerous platforms.
"…while anything is better than Ford's vision of cyclists giving up on cycling altogether else lest they take their lives in their own hands. You'd think that these guys had never been on a bike or been around cyclists.
"Well done Himy."

Herb van den Dool | Blogger
I Bike TO (08/31/2010)
---
… Ernest Candidate for Mayor
"Himy Syed, the twitter fanatic and earnest candidate for mayor, is hosting a non-incumbents fair…
"…you'll also meet some amazing budding politicians whose smarts, enthusiasm and dedication are the perfect antidote for this oft-depressing mayoral race."

Kelly Grant | City Hall Bureau Chief
The Globe and Mail (09/09/2010)
---
… unusually open year for council candidates
"A gathering for "unincumbent" council candidates organized by mayoral candidate HiMY SYeD was held at Dovercourt Baptist Church…
"…with nine city councillors retiring or running for mayor, it is an unusually open year for council candidates from any background or experience level.
"But unlike their more visible, mayoral counterparts, these DIYers came out to encourage each other and swap stories.

Matthew Woolley | Morning Brew
BlogTO (09/14/2010)
---
… raising turnout to 50 per cent
"Himy Syed, a mayoral candidate … called council challengers to a Bloor Street church to help shorten their odds of winning.
"…Syed, who has run for a council seat himself, invited "un-incumbents" to tell them at a podium draped in a city flag.
"…must educate residents, most of whom select candidates "by the colour of your lawn sign"
"Syed said the goal of all such candidates should be raising turnout to 50 per cent in all wards, up from "abysmal" 2006 levels averaging 39 per cent city-wide."

Mike Adler | Staff Reporter
Toronto Community News (09/14/2010)
---
… start listening to those corners of the democratic process
"…event was organized by HiMY SYeD, himself an outsider candidate for mayor. An introduction and orientation, if you will, with Mr. SYeD presenting a couple internet sites that he will launch to assist candidates in getting their names and platforms out to a wider audience.
"…an uphill battle, to be sure, despite the fact that as HiMY SYeD pointed out, this was a once in a generation election with 20% of wards wide open with no sitting councillors in the race.
"…the real grassroots, mainstream movement is happening in gatherings like that … Real people with real concerns and real policies about how to make Toronto more livable, more inclusive and more equitable.
"With just 6 weeks to go until we elect a new mayor and council, maybe we should start listening to those corners of the democratic process if we really want to make Toronto into our own image."

Darren Foster | Municipal Blogger
All Fired Up In The Big Smoke (09/14/2010)
---
… Syed hosted 'Guaranteed Change At City Hall'

"Mayoral candidate Himy Syed, a fierce presence on the web … betting underdogs in the other wards can make it a real race…

"But how do candidates get the word out? … Syed hosted Guaranteed Change At City Hall and laid out his social media strategy. … candidates were invited to introduce themselves to the assembled media. For some, it's a rare opportunity.
"A primary goal, Syed says, is to use web tools to help achieve a 50-per-cent-plus voter turnout in all 44 wards. In 2006, only 39.3 per cent of Torontonians went to the polls."

Josh Hume | Reporter
NOW Magazine (09/15/2010)
---
… an individual at home with workings of the municipal government
"Following him …, at least trying to, as the man seems to be everywhere at once, it's clear that he is a candidate worthy of careful consideration. A ferocious Tweeter, his constant updates reveal an individual at home with workings of the municipal government.
"… HiMY SYeD is more knowledgeable about how City Hall operates than any of the other candidates save for, perhaps, Joe Pantalone. While council was still in session, he'd be there at meetings, deputations, community councils, all while campaigning. At the debates, he'd give real time answers to the questions that were posed as if he had been invited to participate.
"For all the talk of change we're hearing during this election, it's all nothing more than cosmetic change.
"… Change for HiMY SYeD is a whole lot different than that. To try and understand his approach to change, one needs to look at the politics of Jaime Lerner. A 3 term mayor of Curitiba… Hence, Mr. SYeD's calm and considered approach to change. Or what he calls, transformation…
"Vision 2020 offers a glimpse into Mr. SYeD's thinking about change/transformation. Calling it "an integrated 10 year strategy of hope in Toronto" … consists of 3 simple ideas. Mobility. Sustainability. Identity. From those come specific ideas. …

"…More to the point, HiMY SYeD has proven himself to be a viable candidate who deserves to be heard. Those of us in the city looking for real change deserve to hear him, to see him up on stage with those who've been designated as our only choices. Denying him access only heightens suspicion that real change is being denied us."

Darren Foster | Municipal Blogger
All Fired Up In The Big Smoke (09/17/2010)
---
… arts community … boost support to $33 per Torontonian
"There was one question everyone came to ask – the one about money.
"And yes, the leading candidates to be Toronto's mayor – save one – seemed to promise the arts community will get a lot more. …That one candidate, … was no surprise. Rob Ford.
"…spread the city support to areas beyond Toronto's downtown, particularly priority neighbourhoods in the suburbs.
"…Himy Syed, … wants to boost city support to $33, but he disagreed private partnerships or sponsorships should be sought for every event.
"The original Nuit Blanche in Paris does not have the name of a bank in front of it," Syed said.
"I want arts programs to be able to choose to be either unbranded or co-branded."

Mike Adler | Staff Reporter
Toronto Community News (09/28/2010)
---
… Syed [has] shown remarkable potential as candidate.
"…there are more than a few occasions where good ideas, and possibly even a good mayor, are overlooked.
"…the media plays the role of kingmaker — but it can also play jestermaker. We should look to promote more of these candidates in order to advance the conversation and introduce more ideas and more diversity (our strength, remember) into mayoral politics.
"…Moreover, is the absence of … Himy Syed from the mainstream coverage really only cheating voters of better mayoral options?
"Himy Syed is probably too smart to be an effective candidate.
"His campaign platform … far more nuanced than Ford's mantras about wasted tax dollars.
"…his commentary is incisive. It's also been said that Syed knows as much about the inner workings of city hall as his fellow candidate, 30-year council veteran Joe Pantalone. You might ask why we haven't heard more about him.
"…Among Syed's many intelligent campaign ideas is a bike-lane network … Syed [has] shown remarkable potential as candidate.
"…when the election runs for the better part of a year, there's no reason why the coverage, even televised debates, can't cast their nets a little wider and bring a few more viable candidates to the surface."

Chris Bilton | Staff Writer
Eye Weekly (10/06/2010)
---
… an articulate, intelligent man who would represent Toronto well on the world stage

"He has a very well thought out platform and is extremely knowledgeable about the city (and I mean city-wide not just a section or two).
"… believes in himself and the power of the people in Toronto … an articulate, intelligent man who would represent Toronto well on the world stage.
"… he can help to represent the diversity that is Toronto and can be proof that our Toronto includes everyone.
"I urge voters to have a look at him as an antidote to the same old party political 'bash the other guy' that Ford, Pantalone and Smitherman have been doing. I want a Mayor with depth not silly sound bytes."

Ken Wood | Community Activist
Davenport Democracy (10/16/2010)
---
… was looking for a candidate who understood the backbone of the city
"…When I was not happy with the top five candidates that the Media was putting out front and central I went looking for a candidate I could support. I was looking for a candidate with a workable plan. I was looking for a candidate who cared. I was looking for a candidate who understood the backbone of the city of my birth, the city that I love.
"…we both volunteered to help in the immediate aftermath of the 200 Wellesley Street fire. It was there I saw how much he truly cared and how he wanted to help. Again good qualities for a people's mayor.
"Another quality was the way he was able to galvanize others to help as well. Several came to help after reading his tweets. His desire to help the residents of 200 Wellesley did not stop at the Friday. He along with several volunteers organized and held the first fundraiser to help the residents.
"… his Vision 2020 … most comprehensive of all the candidates … a well thought out plan that is actually do able. It is a workable plan. We would actually have a better city with Mr Syed in the mayor's chair."
Hollie Pollard | Blogger
Common Cents Mom (10/17/2010)
---
… Himy Syed would be my choice for Mayor of Toronto
"… if I was asked the same question today, my answer would be, Himy Syed would be my choice for Mayor of Toronto. … Because he represents a new Toronto."


Joe Pantalone | Deputy Mayor of Toronto
CP24 Televised Mayoral Debate (10/19/2010)
---
… possessing spectacular knowledge and understanding of this city
"What about Himy Syed? … he's easily the best of the … candidates, possessing spectacular knowledge and understanding of this city and the diverse communities within it.
"… He could have held his own in debates against the front-runners. … I want to be able to vote for someone I like."

Jonathan Goldsbie | Posted Toronto Political Panel
National Post (10/20/2010)
---
… Himy Syed might be better than all the front-runners
"…Nobody loves strategic voting … isn't the solution. The solution is electoral reform.
"I honestly think Himy Syed might be better than all the front-runners."
Matt Elliott | GraphicMatt
Urban Toronto (10/21/2010)
---
… Resilient spirit and indefatigable sense of civic duty
"He calls himself The Peoples' Mayor. It is not empty campaign rhetoric. As Mr. SYeD correctly points out, this race has been all about things. Tax cuts, subways and gravy trains. Where are the people?
"… Civic engagement sits at the very core of his campaign. … Inclusion isn't something he'll seek to do as mayor, a single plank in his policy platform. Inclusion is the engine that drives his candidacy.
"…Mario Cuomo said "You campaign in poetry. You govern in prose." Well, HiMY SYeD was our bard in campaign 2010. In a wave of turgid, uninspiring, squalid, vacuous words, he spoke to us, no… sang to us in beautiful, elevated language, with his vision of empowerment and hope.
"…there are many smart and original thinkers and activists, contributing mightily to the public discourse. HiMY SYeD is one of those people.
"… Witnessing his resilient spirit and indefatigable sense of civic duty in the face of shameful inattention and even hostile disregard on the part of serious opinion makers, buoys me with hope and resolve.
"…I know HiMY SYeD will continue to soldier on and contribute to the ever evolving urban fabric of Toronto …
"…the kind of Toronto I want to be part of is one where HiMY SYeD is mayor.
"My heart tells me it's a vote for 2010 but my head says 2014 and the future…"

Darren Foster | Municipal Blogger
All Fired Up In The Big Smoke (10/24/2010)
---
… re-instilled in my faith that one person can count
"…Mr. Syed, THANK YOU for showing me and many others that we can have a voice and that voice is important in this democratic process. I have learned much from you in the last 6 weeks since we first met. I am no longer that disillusioned woman who thinks the process is flawed. … You re-instilled in my faith that one person can count…. I too could share and make this city truly a better place.
"When you were blocked from the major media in this city by the boys who control the dollars … I saw in you creativity, tenacity and humility. While other candidates who were in the media eye were self-serving you rose above and talked to the people after the debates and tweeted your responses so you could have a voice. You created your own voice. In doing so you rallied me and the votes of many more like me who looked for creative ways to share a better vision for this city.
"Thank you for the platforms you put forth first that somehow ended up as policy statements of your opposition. We all know where "bike city" and "neighbourhood councils" come from. You truly do have a great vision for this city. Even they saw it.
"I also wanted to thank you because I know that whatever happens tomorrow you will be and are a people's mayor."
Hollie Pollard | Blogger
Common Cents Mom (10/24/2010)
---
… For voters like me, Syed brings hope that all is not lost
"The leading candidate wants to tear the city apart to save a few bucks.
"…candidates that our media have privileged us to hear from have shown an alarming disregard for Toronto … to the disservice of us all.
"The single ray of hope for Toronto progressives, the sole representative to step into this void and stand up for Toronto, has been Himy Syed. His Vision 2020 is a progressive vision for all of the people of Toronto, to build our city over the next 10 years, and make us into the world-class city we all believe that we are.
"Despite being shut out and sometimes banned from the major debates, largely ignored by the mainstream media, and sometimes ridiculed by reporters and other campaigns, Syed is still out there, tirelessly promoting his vision for Toronto and fighting for the city he loves and believes in.
"If Syed has proven one thing in this campaign, it's that he's not going away. He has worked hard to give a voice to the voiceless in Toronto, and he's given us reason to believe that he won't give up that fight.
"…the polls say our new mayor will be one who wants to dismantle our city piece by piece. For voters like me, Syed brings hope that all is not lost, that we do have a voice, and that we can save our city.
"The fight for a better Toronto doesn't end today. It starts tomorrow. Today, my vote goes to the People's Mayor, Himy Syed."

Greg Burrell | Accountant
The General Ledger (10/25/2010)
---
* * *
---
Himy Syed … joked … if anything were to happen to Doug, Rob would become mayor
"…The press generally cites Doug's opinions as though they are official pronouncements from the mayor's office, and refers to the administration casually as "The Fords."
"He's the shadow mayor, there's no doubt about it," says Councillor Janet Davis, who has been among the Fords' most vocal critics.
"It's quite striking, really, that Doug has assumed the role of mayor so easily, and people have now come to accept that he has some greater authority around here."
"Political gadfly (and former mayoral candidate) Himy Syed recently joked on Twitter that Doug Ford needs more security protection than Rob since, if anything were to happen to Doug, Rob would become mayor."
Edward Keenan

| Lead Columnist, Senior Editor
The Grid TO (05/26/2011)
---
… Himy Syed, giving … impromptu … masterpiece of a speech
"…longest continuous meeting in the history of Toronto municipal government … Committee Room 1, still crowded as the meeting endured into its 24th hour…
"…It was on everyone's lips throughout the night: look at all this democracy. People—senior citizens, high school students, business owners, artists, doctors—waiting around, packing three committee rooms for hour upon hour, listening to each other's three-minute sermons on civics and awaiting their own turn at the microphone when they would get their chance to speak. …
"… There was former mayoral candidate Himy Syed, giving an impromptu comic masterpiece of a speech full of very specific and very workable budget solutions, tailored to each councillor on the committee. …
"…Rob Ford had said that the Core Service Review was about looking at what things in the city are "need to haves" and what things are "nice to haves"—because, he said, pointing to the budget gap of $744 million, this is why we can't have nice things….
"… Because these people, very few of them The Usual Suspects, who cared so much about whatever it is they came to speak about that they were willing to sacrifice a day's work and a night's sleep to say it, found at City Hall an army of fellow citizens just as concerned and perplexed and suddenly motivated as they were.
"…all kinds of people who are not usually, necessarily on the same side of things—suddenly found themselves together facing an executive committee that appeared to be prepared to cut everything to plug an 8.5% hole in the proposed budget—a hole made larger by that same executive committee's recent decisions to cut and freeze various taxes.
"…here they all were, filling three rooms at city hall, listening to each other and talking to each other and exchanging information and cheering loudly for each other, often in defiance of whoever was chairing the meeting at the time, trying to quiet them down.
"Applause and cheering are forbidden by the rules, but Ford and his deputy mayor Holyday didn't even really try to enforce the prohibition. Because they couldn't.
"If someone were trying to reverse the political momentum at city hall—if someone were trying to start an anti-Ford movement, in other words—this is how they might go about it."

Edward Keenan | Lead Columnist, Senior Editor
The Grid TO (07/29/2011)
---
… This is how we solve the billion dollar deficit, says HiMY SYeD
"Beginning at 9:30 a.m. and extending through to the next morning, the City of Toronto's Executive Committee — led by Mayor Rob Ford — heard more than one hundred and fifty deputations from a diverse group of citizens.
"Deputant: HiMY SYeD (website, twitter)
"Political History: Ran for mayor last year.
"Scheduled Speaker No.: 298; Actual Speaker No.: 160
"…SYeD's litany of councillor-specific recommendations has a nice bang-bang-bang rhythm to it that I really enjoy. Some might find his suggestion for Councillor Palacio a bit rude — it was the councillor's birthday — but, really, I think SYeD was just trying to be helpful."
Matt Elliott | GraphicMatt
Ford For Toronto (08/15/2011)
---
… @JoshMatlow has unblocked @HiMYSYeD
"No one can say that the deputations at Executive Committee had no effect: @JoshMatlow has unblocked @HiMYSYeD."

Jonathan Goldsbie | Independent Journalist
Twitter (08/02/2011)
---
… Quick reference: people who might run for mayor in 2014
"HiMY SYeD
"Going for him: SYeD ran in 2010 and has remained a constant fixture at events and gatherings around the city.
"Will he run? He's already running."

Matt Elliott | Columnist
Metro Canada (06/22/2012)
---
… forum moderated by Himy Syed, a former Toronto mayoral candidate
"…Despite treacherous weather conditions and approaching midterms, students started trickling in an hour prior to the start time with a full house by 7 p.m. … candidates went on to the stage to a room full of cheers, flashes and raised smartphones.
"…forum were moderated by Himy Syed, a former Toronto mayoral candidate and Huffington Post writer. Syed asked the candidates questions about personal interests and past experiences and careers.
"Candidates discussed an assortment of topics including bike infrastructure, shelters for LGBT youth, sustainability in Toronto, racial profiling by police and the never-ending debate on Light Rail Transit vs. subway extensions. "

The Editor | UTSC
The Underground (02/06/2014)
---
… first mayoral candidate forum for the upcoming 2014 Toronto municipal election

"On February 5, the first mayoral candidate forum for the upcoming 2014 Toronto municipal election took place at the University of Toronto Scarborough. … Two hundred students were present.
"Himy Syed, organizer of the forum and past mayoral candidate, invited … mayoral candidates to the event.
"Rob Ford received a mixed reaction from the crowd. His speech focused on tax cuts, boosting the economy, and public transit.
"Transit is a hot-button issue at UTSC. In 2010, students approved $30 million in funding for the new Pan Am/Parapan Am Aquatics Centre and Field House on campus. At the time, some students believed that a light-rail transit (LRT) line would be built to the campus along with the facilities. However, the line is now cancelled, with students still footing the bill for the facility.
"Overall, UTSC students were happy to see the forum at UTSC … it gave them a chance to engage in the political process."

Anjum Sultana | Reporter
The Varsity (02/10/2014)
---
… best analysis I've seen
"HiMY SYeD Thank you for this article! It is the best analysis I've seen. Will the candidates read it and learn from it? I hope so."

Dennis Findlay | Community Volunteer
Retired Teacher (03/28/2014)
---
… been better off had the city elected HiMY SYeD
"2010, we'd've been better off had the city elected HiMY SYeD.
"Arguably, in 2010, HiMY didn't get a fair shake.
"…HiMY SYeD would've been a much better mayor than … Rob Ford."

Edward Keenan | Senior Editor, The Grid TO
Public Talk, Artscape Wychwood Barns (06/20/2014)
---
… man of many fascinating ideas
"…Welcome HiMY SYeD to the mayoral race – a man of many fascinating ideas."

Mark Towhey | Former Chief of Staff
Toronto Mayor Rob Ford's Office (08/03/2014)
---
RESPECT for EVERYBODY
---
Before we begin …
… We need to acknowledge we are on the Traditional Territory of the Mississaugas of the New Credit
---

… I am running to succeed the Person with the Power at City Hall.
That person is… Norm Kelly
---

… If you are running to become TTC Commissioner, you might have a transit plan
However, if you are instead running to become Mayor, you must have a Transit Funding Plan.
My Transit Plan is Simple:
I'll Fund It.
---

… The TTC does not have a Funding Problem. The TTC Has an Identifiable Funding Problem.
The Syed Administration will let the TTC KEEP it's annual structural Operating Surplus
---

… As Mayor, this is how I will find the $300,000,000 to build the unfunded Streetcar Line from Union Station to Parliament Street
---

… Like Mississauga, Toronto must ask developers to buy 1 Bus and give it to local public transit for each additional 10 storeys for which they are asking permission to build
Why a bus?
Because a Bus can be deployed at any time, anywhere the TTC needs transit.
A fixed rail line located near the building asking for the additional zoning, does not allow for a city-wide and system-wide transit service delivery option.
A bus, however, does.
If Toronto had this 1 Bus for Every Additional 10 Floors policy already in place during the recent condo building boom, The TTC's entire new bus fleet purchase would have already been paid for … with ZERO tax dollars
However, IF the TTC joins the Provincial Bus Purchase Program, collectively purchasing buses with fellow Ontario Public Transit Systems at reduced per vehicle costs, and we implement this 1 New Bus for 10 Additional Floors funding policy, based upon cautious estimates of Toronto's continuing condo boom, we may be able to fund at least 1/3 of the future TTC Bus Fleet using this mechanism
As Mayor, it's my ongoing job to creatively find the money to fund Toronto's public transportation system while balancing the needs of the city's growth
This is one more example of how The Syed Administration will do that
---
… Forget the Ferris Wheel
We can use the Leslie Barns Maintenance and Storage Facility as the catalyst to create a Streetcar Suburb in The Port Lands
By looking into our past to build our future, The Syed Administration will solve the decades old riddle of how to kick-start Toronto's 21st Century
---
… Why is NO ONE talking about an Etobicoke Relief Line ?
The Syed Administration will apply Transit Acupuncture in creating the Etobicoke Relief Line
---

… Downtown Relief Line
The Syed Administration can create an overall Downtown Relief Strategy, today, in place of an unrealized and unfunded Downtown Relief Line, decades into the future
---

… Toronto as A Streetcar City can sell technical tours and market our hard earned knowledge to other Cities and Transit Systems which are bringing back The Streetcar as a mode of transit
Bogotá and Medellín do this by selling their Bus Rapid Transit and Metrocable know-how to generate Public Transit Funding
Why not Toronto ?
---

… My Technical Tour of the Transmilenio BRT North Depot in Bogotá, Colombia
Bogotá sells Bus Rapid Transit know-how
Toronto can do likewise with our Streetcar knowledge
---

… People keep confusing The St Clair Streetcar with an LRT
By People, I mean Scarborough City Councillors
---

… Another Scarborough City Councillor being confusing
As Head of Toronto City Council, The Syed Administration will end all such confusion
---

… Metrocable Line from Broadview Subway Station to Evergreen Brickworks in Don Valley
---

… Bus Rapid Transit BRT is not ideal for Toronto's East Side Hydro-Corridor
A Metrocable Line, as part of an overall Downtown Relief Strategy, connecting Flemingdon Park, Don Mills, Malvern, UTSC, Rouge Park, and points in-between, is ideal
---

… UTSC Students got screwed over by Toronto City Council when the original Transit City line to their campus was abandoned
The Syed Administration can quickly correct that error, within a single term of Council, by installing a Metrocable Line connecting thousands of students to and from Central Scarborough, and within the existing TTC Budget
---

… The unintended consequences of unintended consequences of cancelling then re-cancelling Transit City's fully funded Trains across Scarborough on Sheppard Avenue East
---

… All Four TTC Train Lines need to install, activate, then take advantage of Automatic Train Control
Those savings in time and money using ATC must be re-invested back into TTC's backlog of Capital Infrastructure projects
---

… Why are we are arguing over technology ?
Scarborough needs bigger trains, with more frequent service, and more of them
---

… Toronto Island Airport Expansion
Waterfronts were built for people and not Jets.
If we are building a waterfront to serve the airplane, the Island Airport Expansion would be a good place to start.
But if we are building a waterfront to serve people, the Island Airport Expansion is a good place to stop.
---

… Split Waste Collection Model of Private and Public Pick-up of Garbage is working
Privatization of Garbage pick-up into Zone 3, east from Yonge Street to Victoria Park, and across Zone 4, east from Victoria Park to the border, would be not just a mistake, but an error
---

… Toronto Must Create an AODA Compliance Officer
Every idea related to making the City of Toronto an Accessible City for all concerned, before the Deadline of the Accessibility for Ontarians with Disabilities Act comes to pass, is a stop gap measure
Only an arms length from City Council, fully independent Compliance Officer, empowered on the order of an Inspector General, an Auditor General is acceptable
Creating an AODA Compliance Officer is not about Accessibility
It is about Human Dignity and RESPECT For EVERYBODY
---

… Moneyball for Government
How relocating a bus stop, a few feet away from existing sewer grates, creates additional TTC Bus Driver shifts without raising taxes, saving neighbourhood bus service
The Syed Administration will bring Moneyball to Local Government, first by changing the Frequency of Executive Dashboard from quarterly to weekly, and then acting on those results.
Currently, The Executive Committee simply receives these reports.
This practice has cost the City of Toronto hundreds of Millions of Dollars annually over the past two administrations.
The Syed Administration does not need City Council to implement Moneyball for Government.
Executive Dashboard is already in place. We will take advantage of it, immediately
---

… More Moneyball for Government
When Life (Other Spheres of Government) gives you lemons (Capital-only Funding)
Make Lemonade (Operating Results)
The Syed Administration will aggressively take advantage of this point of view to eliminate the current backlog of operating budget dependent priorities.
Notably, the affordable housing waiting list, and the State of Good Repair backlog throughout Toronto Community Housing
---

… New City of Toronto Act review due in 2016
Being prepared to Renew, Reassess, and Regenerate the Corporation of The City of Toronto into a Full Order of Government
---

… Toronto now needs Four Deputy Mayors
Toronto currently only has one Deputy Mayor. Many World Cities have several.
Consider
The constant uncertainty of the current Mayor continuing in Office
The delegating to Former Deputy Mayor Holyday for negotiating Labour Peace with the City's Unions
The Mayor's photo-opportunistic leadership during the Ice Storm
City Council taking the extraordinary precedent of transferring Powers of The Mayor to the Deputy Mayor in November 2013…
The urgent need for Toronto having several Deputy Mayors with specialized skills has been confirmed in this 2010-2014 Term of Council.
Furthermore, North York, Scarborough, Etobicoke, and The Old City of Toronto, each need their own Deputy Mayor with specific limited powers
---

… Rotate Sitting Full Toronto City Council to North York, Etobicoke, Scarborough
---

… Urban Acupuncture in Bogotá
Ideas, Inspirations, and Insights for Toronto's Identity and Toronto's Infrastructure
---

… OpenStreetsTO
The Ciclovia Car-Free Sunday Pilot Project must become permanent
It must be expanded from High Park to Withrow Park, start earlier at 7 a.m. and end at 1 p.m.
TTC Train Service must begin earlier on OpenStreetsTO Sundays
Season must begin on Victoria Day Weekend and last until the Last Sunday in October
---

… Toronto needs a MinimumGrid of Bike Lanes
The Syed Administration will deliver a MaximumGrid of City-Wide Bike Lanes and Safe Cycling Infrastructure
MaximumGrid is not Cyclists vs Motorists
MaximumGrid is RESPECT For EVERYBODY
---

… Toronto needs Bicycle Parking Stations
The Syed Administration will install 10,000 Free Bicycle Parking Spots inside Bicycle Stations at key TTC Station Access points across Toronto
---

… Food Security IS Security
Toronto can use Public Libraries to become a Nutrition Oasis
The Syed Administration will create Bibliomarkets to help eliminate Food Deserts
---

… Library Parks
The Syed Administration will create Library Parks in neighbourhoods all over the City
---

… Jaime Lerner designed a Park FOR Toronto
In 2010, I visited Jamie Lerner in Curitiba, Brazil.
He showed me designs for a park he did FOR Toronto. He pledged he would give it to Toronto FOR FREE.
Jaime Lerner told me he was only waiting for the Right Mayor to be Elected in Toronto to make that park happen.
The Syed Administration will take Jaime Lerner up on his offer to build this park, sharing his gift with all of Toronto
---

… Emancipation Park
Honouring both the fact that Upper Canada was the first jurisdiction in The British Empire to abolish Slavery, as well as Toronto being the Destination point for Escaping Slaves from the United States using The Underground Railroad
The Syed Administration will rename Riverdale Park East as Emancipation Park leading into The 2015 PanAm Games
It is anticipated the newly named Emancipation Park's existing sports facilities make it an ideal venue for Toronto's Annual Harriet Tubman games
---

… T.O.Shuks Trail
The Syed Administration will create a sense of discovery and identity by placing InukShuk-like T.O.Shuks across Toronto
---

… More places to sit
The Syed Administration will create 10,000 new places to sit in public spaces in all neighbourhoods city-wide
RESPECT For EVERYBODY means Torontonians having a place to sit in all public spaces
---

… More places to walk
The Syed Administration will ensure and enhance Toronto's global standing as A City of Labyrinths
---

… Urban Aqua-Puncture
---

… Funtain Hydraulophones
---

… From HTO Park to HTO Parks
The Syed Administration will create New HTO Park inspired Urban Beaches in North York, Etobicoke, and Scarborough
---

… Create the Humber Islands
---

… More Working Water Fountains
---

… Deep Water Cooling
---
I'm not asking for your vote…

… I'm asking you to make history by casting your vote